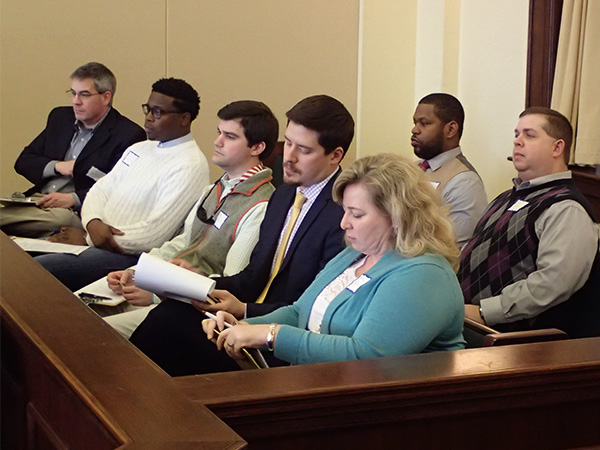 Judge
Regional competitions:
On February 3, 2018, Regional competitions will be held in nine cities across North Carolina: Asheville, Fayetteville, Gastonia, Greenville, High Point, Pittsboro, Raleigh, Salisbury, and Wilmington. Over 650 students will enter courthouses that day, eager to play the roles of witnesses and attorneys in the case of State of Utopia v. Alex Buckley. On that day, our students need attorneys to serve as scoring jurors, presiding judges, and role models. In return, by investing in our students, volunteers will help to develop the leaders of tomorrow!
For specific information about each Regional competition, visit the Regionals pages.
To join us, please fill out our online volunteer registration form, or print/scan/email the attached pdf: Regional Judge Registration Form. Thank you for your help!
Schedule: Each regional competition consists of two preliminary rounds and one championship round. Round times can be found on the Regionals pages. Rounds last approximately 1.5 hours. Judges are welcome to judge more than one round if desired.
Orientation: Immediately preceding each round, a judge orientation session will explain the responsibilities of presiding judges and scoring jurors, as well as the criteria used to score the competitors. All matters relating to judging are covered in the orientation, so previous experience is not required. Email confirmation of the time and location for the orientation session will be sent prior to the event.
Preparation: Little advance preparation is required. A summary bench brief will be sent to judges/jurors ahead of time; the actual case materials are also sent upon request, but volunteers do not need to read all materials in order to serve.
Refreshments: Complimentary refreshments are provided to all volunteers as a token of our appreciation.
Networking Opportunity: Nearly 50 judges and jurors are required to judge all the rounds at each regional competition. Serving as a volunteer is a terrific opportunity to network with other attorneys from the local area.
Bring a Friend: If you have legal colleagues who are interested in judging, please encourage them to register as well!
State finals:
On March 9-10, 2018, Campbell Law School in Raleigh will again host the State High School Mock Trial championship. The nine Regional champions and one wild card team will each travel to Raleigh to enjoy making friends from across the state while competing for the title of State Champion. The State Champion will qualify to attend the National High School Mock Trial competition on May 10-12, 2018 in Reno, NV.
State Finals Judging Information:
Location: Campbell Law School, located at 225 Hillsborough Street, Raleigh, NC 27603. Parking for judges is available on site.