Fayetteville Regional

Congratulations to all teams that participated in the Fayetteville Regional on Zoom in 2022:
Regional Champion Terry Sanford High
Runner up:  Village Christian Academy (purple)
Other participants:  Fayetteville Academy  |   Gray Stone Day School (Manticore) |  NC School of Science and Math (Blue) | Raleigh Charter (Green)  | Unity Mock Trial (Red) | Village Christian Academy (White)
| Best Attorneys | Best Witnesses |
| --- | --- |
| Sam Boughman, Rd1 | Hannah Wilkerson, Rd1 |
| Chloe Israel, Rd 1 | Abby Moomaw, Rd1 |
| Luke Ertzberger, Rd1 | Kelsey Weimer, Rd 1 |
| Cheryl Li, Rd 1 | Lauren Zuravel, Rd1 |
| Abby Brown, Rd2 | Laynie Friend, Rd 2 |
| Jack Snyder, Rd 2 | Rachel Gordon, Rd 2 |
| Davin Gardner, Rd2 | Alex Toney, Rd2 |
| Addison Edwards, Rd2 | Sarah Uharriet, Rd 2 |
| Anil Gordon, Final | Matthew Miller, Final |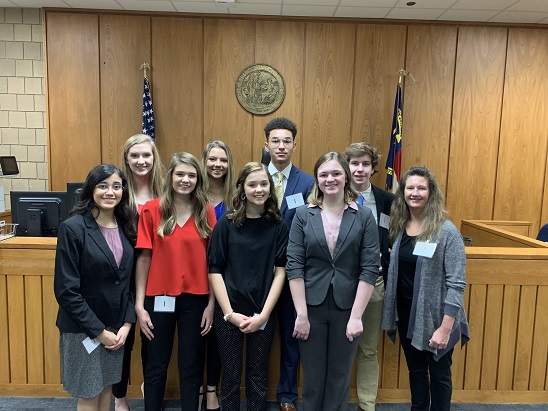 All the materials for the 2022 Fayetteville Regional will be available below. If you have any questions or suggestions regarding this webpage, please contact NCMTP Executive Director Liz Avery-Jones at liz@ncmocktrial.org
COMPETITION HOSTS:   Many thanks to Regional Coordinator and NCMTP President Rebecca Britton and Site Coordinator Tanja Shurling. Their email addresses will be shared here before competition.
WE NEED JUDGES/JURORS:  To volunteer, please fill out our online form.
THANK YOU to our Regional sponsor, BRITTON LAW for their generous support! We could not hold this regional competition without their help. To learn more about Britton Law, visit their website at http://www.brittonlawfirm.com/.