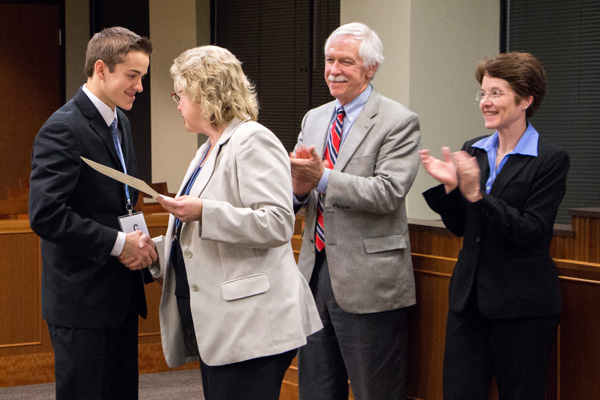 North Carolina Mock Trial Program
The North Carolina Mock Trial Program, formerly known as the Carolina Center for Civic Education (CCCE), is a nonprofit corporation that operates the only statewide high school mock trial competition in North Carolina.
NCMTP Mission Statement
The North Carolina Mock Trial Program believes that teaching high school students about our justice system and trial-by-jury is crucial to preserving our rights as citizens. Our mission is to create engaged citizens through the hands-on learning activity of mock trial, thereby enabling students to gain the civic understanding, self-confidence, analytical reasoning, and communications skills that are vital for tomorrow's leaders.
NCMTP Board of Directors
The NCMTP Board is made up of attorneys living in small towns and large cities across North Carolina. All trial attorneys, these volunteers devote countless hours each year to providing this outstanding educational opportunity to students statewide.
Rebecca Britton: President
Brooke Schmidly: Vice-President 
Adrienne Blocker: Treasurer
Christine Scheef: Secretary
John H. Anderson, Jr.
Bradley Bannon
Drew Haywood
Jacob Morse
Brenée W. Orozco
Andy McVey
Mark Sumwalt
Sue Gray
David Sherlin
Chris Nichols
Manisha Patel
Liz Avery-Jones
Ex Officio Member:
Andy Banzoff
NCMTP Program Coordinator
Emme McManus oversees and operates the statewide program, ensuring that the vision of the NCMTP Board is achieved.
Support North Carolina Mock Trial
While the NC Advocates for Justice (NCAJ) is a major sponsor, the North Carolina Mock Trial Program also seeks financial partners and grants to help sustain and build the program for years to come. As additional funding is obtained, the organization implements its vision to expand the mock trial program to under-served areas of the state, offer mock trial camps for high school students, and devise additional means of providing civic and legal education to students across the state.
The North Carolina Mock Trial Program is a 501(c)(3) organization, so all donations to the organization to support the mock trial program are tax-deductible. To partner with us, please go to https://ncmocktrial.org/about/north-carolina-mock-trial-program/individual-contributors/.
If you would like to support us financially by check, please make checks payable to: NCMTP, P.O. Box 17103, Chapel Hill, NC 27516.
Financial information about this organization and a copy of its license are available from the State Solicitation Licensing Branch at 919-814-5400. The license is not an endorsement by the State.