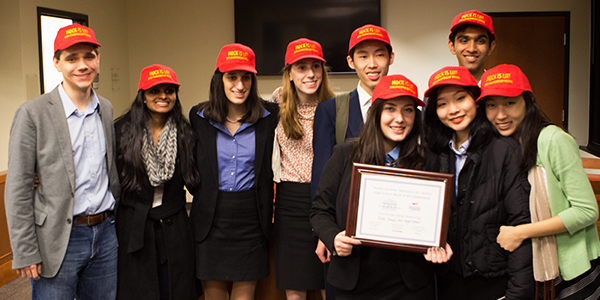 You Can Help us Make a Difference with Your Support
Hello Friend! Each year, our students not only learn about the U.S. justice system, but also gain self-confidence and communication and analytical thinking skills that will EMPOWER them throughout their lives. We are grateful to those who help us bring this powerful educational program to as many North Carolina high school students as possible and ensure its viability long-term.  To achieve these goals, we need more help! Will you consider contributing and supporting this cause?
Click below (no PayPal account needed). The NC Mock Trial Program is a 501(c)(3) and all donations are tax deductible. We offer the option of a monthly donation (see checkbox after you click below icon) which can be adjusted by you at any time.  We look forward to adding you to the below list. Prefer to be anonymous or wish to donate in someone's honor?  Please let us know.
You can make checks payable to: NC Mock Trial Program and mail to P.O. Box 17103, Chapel Hill, NC 27516.  Thank you for your support!
Financial information about this organization and a copy of its license are available from the State Solicitation Licensing Branch at 919-814-5400. The license is not an endorsement by the State.

Please consider joining us on GIVING TUESDAY and Celebrate 31 Years with us!
NCMTP: $31 for 31  | CELEBRATING 31 YEARS OF MOCK TRIAL (1992-2023)
Please click the PayPal icon above to donate $31 to commemorate our 31st year. If you wish for this to be a monthly contribution, please select the checkbox.
NCMTP Champions: $1000-2,499.00
Adrienne & Dennis Blocker