High Point Regional
Congratulations to all teams that participated in the High Point Regional on Zoom in 2022:
Regional Champion Central Carolina Homeschoolers (Lux)
Runner up:  Millennium Charter Academy
Other participants:  Chatham School of Science & Engineering |  Gray Stone Day School (Basilisk) | Grimsley High (Whirlie Justice) | Northern Guilford
| Best Attorneys | Best Witnesses |
| --- | --- |
| Katie Zucker, Rd1 | Trinity Walton, Rd1 |
| Meagan Walker, Rd1 | Haley Kramer, Rd1 |
| Sarah Hernando, Rd1 | Isaac Shipley, Rd1 |
| Georgia Burleson, Rd2 | Niobe Taylor, Rd2 |
| Julia Outlaw, Rd2 | Sarah Hernando, Rd2 |
| Natalie Cockerham, Rd2 | Cheyenne Rogers, Rd2 |
| Meagan Walker, Final | Isaac Shipley, Final |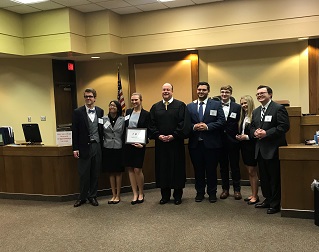 All the materials for the High Point Regional are available here. If you have any questions or suggestions regarding this webpage, please contact NCMTP Executive Director Liz Avery-Jones at liz@ncmocktrial.org.
Many thanks to our High Point Regional Sponsor, the High Point Bar Association.   We are grateful to them for their investment in our future leaders!
COMPETITION HOSTS:  Many thanks to NCMTP Vice President & Regional Coordinator Rich Manger and Site Coordinator Grace Lay.   Please contact them with specific questions about the High Point regional. Email addresses tba.
WE NEED JUDGES AND JURORS:  To volunteer, please fill out our online form.