Salisbury Regional
Congratulations to all teams that participated in the Salisbury Regional on Zoom in 2022:
Regional Champion Raleigh Charter (Silver)
Runner up:  Carrboro High
Other participants:  Community School of Davidson | Davie County High | Gray Stone Day (Grendel) |  Lake Norman Blue | William A Hough High (Blue) | William A Hough High (Silver)
| Best Attorneys | Best Witnesses |
| --- | --- |
| Alivia McCrosky, Rd1 | Meredith Kaiser, Rd1 |
| Lucy Carlson, Rd1 | Alex Atkins, Rd1 |
| Zoie Galloway, Rd1 | Pari Sidana, Rd1 |
| Lucy Carlton, Rd 1 | tba, rd1 |
| Grace Hable, Rd2 | Beck Hardin, Rd2 |
| Ashley Tatum, Rd2 | Madie Keller, Rd2 |
| Lucy Carlson, Rd2 | Alex Atkins, Rd2 |
| Noah Langbo, Rd 2 | Zoe Bergschneider, Rd2 |
| Noah Langbo, Final | Zoe Bergschneider, Final |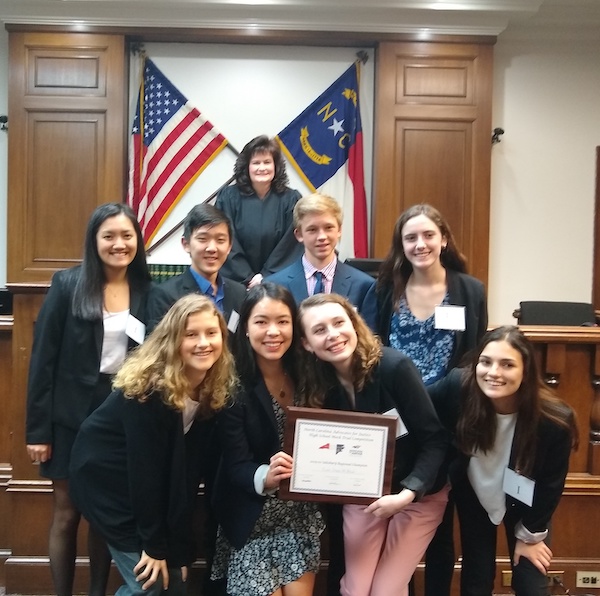 All the materials for the Salisbury Regional are available here. If you have any questions or suggestions regarding this webpage, please contact NCMTP Executive Director Liz Avery-Jones at liz@ncmocktrial.org
COMPETITION HOSTS:  Many thanks to   Regional Coordinator John Basinger  and Site Coordinators Connie Cassatt, Alicia Coggins and Deandra Hall.   Please contact them with specific questions about the regional. Email addresses tba.
WE NEED JUDGES/JURORS:  To volunteer, please fill out our online form.
THANK YOU to our  Salisbury Regional Sponsor: the 19C (Rowan) Judicial Bar! We could not hold this regional competition without such support.