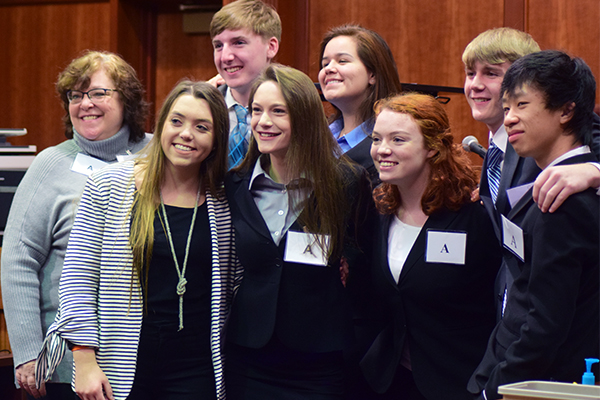 Important Dates
2023-2024 Mock Trial Season Schedule
Registration opens September 15, 2023.
Case Release Date: September 8, 2023. The competition case will be uploaded to our website at https://www.ncmocktrial.org/competitions/case-materials.
Early Registration: Friday, September 29, 2023. Competition will be organized into 10 regionals.  Teams registering by the Early Registration deadline will have the best chance of securing a top choice of Regional 'Site' Assignment. Payment is not due with registration but is due by December 8, 2023.
Final Registration Deadline and Registration Fee Due Date: Friday, December 8, 2023. Registration fee is $325 per team. To pay online, go to Online Payment. If paying by check, please make checks payable to "North Carolina Mock Trial Program" and mail to P.O. Box 17103, Chapel Hill, NC 27516. To request an invoice or receipt, email: emme@ncmocktrial.org.
Note: The signed "Deadlines to Withdraw" form is also due by December 8; please complete the online form here.
Code of Ethics, Member List, and Release Forms Due: Thursday, January 4, 2024. https://www.ncmocktrial.org/competitions/important-forms.
Last Day to Withdraw Without Penalty: Thursday, January 4, 2023. See Rule 1.8 for details re penalty for withdrawal after this date.
Regional Site Assignments Released: Thursday, January 11, 2024 or sooner.
Regional Competitions: Saturday, February 3, 2024.
Teams will be required to submit final Team Rosters electronically BEFORE Noon on February 1, 2024.
Widenhouse Award Nomination Materials due: by 5 PM Wednesday, February 13, 2024. The Nomination Form is available on the website at https://www.ncmocktrial.org/competitions/important-forms.
State Finals Competition:  see more at https://ncmocktrial.org/compete/state-finals/
National High School Mock Trial Championship: May 2-5, 2024 in Wilmington, Delaware. Our state champion will earn the honor of representing North Carolina at Nationals!