Salisbury Regional
Congratulations to Central Carolina Homeschoolers Lewis, the 2017 Salisbury Regional Champion!
Runner Up: Mooresville High School
Other schools competing in Salisbury:
Gray Stone Day School Garnet
East Forsyth High School
Blackstone
Westchester Country Day School White
Gray Stone Day School Gray
Davie High School
High Point Central High School
Westchester Country Day School Blue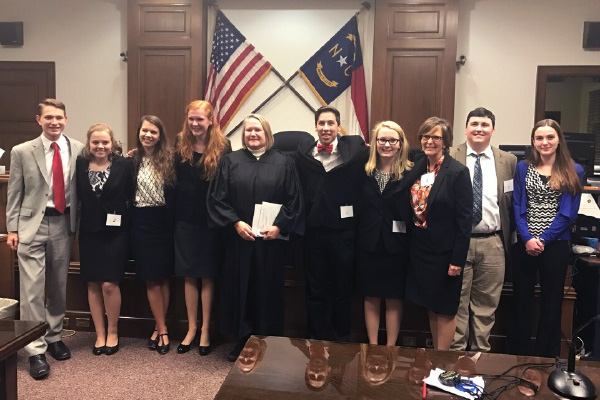 All the materials for the Salisbury Regional are available here. If you have any questions or suggestions regarding this webpage, please contact State Coordinator Sue Johnson at SueHeathJohnson@gmail.com
Many thanks to our Regional and Site Coordinators, whose dedication and service make these competitions possible! Thank you to Darrin Jordon, our Regional Coordinator. If you have questions, you can reach him at Whitley and Jordan (djordan@whitleyjordanlaw.com or (c) 704-239-8120). Thank you also to our Site Coordinator, Emily Applewhite (eapplewhite@whitleyjordanlaw.com or 704-637-1111).
For information about the statewide high school mock trial program, please contact CCCE State Coordinator Sue Johnson (919-360-0848; SueHeathJohnson@gmail.com) or CCCE Vice President Rebecca Britton (910-339-6603; rebecca@brittonlawfirm.com).
To volunteer please fill out our online volunteer registration form, or scan/email or fax the pdf form to the state office: Regional volunteer form.
THANK YOU to our 2017-18 Salisbury Regional Sponsor, the Rowan County Bar Association. We could not hold this regional competition without such support.
Salisbury Regional location information
Rowan County Justice Center
232 N Main St.
Salisbury, NC 28144-4374
(704) 797-3001
Directions from Winston-Salem:
Merge onto 52 South and travel for ~ 23 miles. Merge onto I-85 S toward Charlotte and travel for 10.5 miles. Use the right lane to take exit 76 toward Salisbury and travel on East Innes St. Drive for ~ 1 mile; turn R on N. Main Street.
Enter at Main Street entrance; parking is free all day on Saturdays. Parking lots are located on the corner of N. Main St. & W. Liberty St., behind 305 N. Main St., corner of N. Main St. and W. Kerr St., and corner of N. Main St. and E. Council St.
Get directions via Google maps
Directions from Charlotte:
Merge onto onto I-85 N and travel for ~ 38 miles. Use the right lanes to take exit 76 toward Salisbury. Continue on East Innes St. Drive for 1 mile and turn R on N. Main Street.
Enter at Main Street entrance; parking is free all day on Saturdays. Parking lots are located on the corner of N. Main St. & W. Liberty St., behind 305 N. Main St., corner of N. Main St. and W. Kerr St., and corner of N. Main St. and E. Council St.
Get directions via Google maps
Area Restaurants:
Koco Java, 329 North Main Street (Coffee shop with pastries)
Mike & Paula's, 105 E Fisher St
Sweet Meadow Café, 111 N Main St
Hap's Grill, 116 North Main Street
Bangkok Downtown, 131 East Innes Street
Café Brazil, 121 East Innes Street
Chef Santos, 123 East Fisher Street
Emma's, 209 S. Lee Street
Go Burrito, 115 W Fisher St
Sidewalk Deli, 120 South Main Street
Richard's Bar-B-Que, 522 N. Main Street
Regional competition schedule
8:45 – 9:30 am

​Team Registration

9:00 – 9:45 am​​

Judge and Juror Orientation

9:45 am​

​Welcome Address

10:00 – 11:40 am

Round 1

12:00 – 1:40 pm

​Special Lunch Round (only if odd number of teams competing)

11:45 am – 1:30 pm​

Lunch on your own

1:00 – 1:45 pm​

Judge and Juror Orientation

1:30 – 1:45 pm​​

Teams Return from Lunch

1:45 pm​​

Posting of Round II matches and courtroom assignments

2:00 – 3:40 pm

​Round II

4:15 pm

Announcement of Awards for Best Witness/Best Attorney. ​​​Announcement of Finalists

4:45 – 6:30 pm

​Final Round

6:45 pm​​

Awards Presentation