On May 12 – 14, 2016, 46 teams of excited high school students took part in the 2016 National High School Mock Trial Championship in Boise, ID – including the 3-time NC state champions, the Central Carolina Homeschoolers. Boise welcomed the nearly 1,000 competitors and supporters with open arms, putting on a wonderful event showcasing their lovely city.
To adjust to the time zone, our NC team arrived on Tuesday May 10, giving them ample opportunity to scrimmage other teams and enjoy exploring the state capitol building, Boise greenbelt pathway along the river, and other local attractions. As sophomore Caitlin Kelly remarked, "Nationals was the perfect ending to my sophomore year. I really enjoyed working with my teammates, facing some talented competitors, and meeting other dedicated mockers from around the nation. Plus, Boise is a gorgeous city, which added a lot to the whole experience."
The Nationals mock trial case was quite educational, revolving around a civil dispute between a cattle rancher and sheep herder of Basque heritage (mimicking actual events in Idaho history). On Thursday, students had a chance to mingle with and meet their peers while experiencing Basque culture at the "Pin Exchange." During this event, held at the Basque Block, participants enjoyed delicious Basque delicacies such as paella and marveled over a demonstration of Basque traditional dancing, all while trading memorabilia from their home state or territory. It was a fun-filled way to make new friends prior to the start of the trial rounds the following day.
Our North Carolina team faced strong opponents in every round: Pennsylvania, Northern Mariana Islands, Mississippi, and Florida. They argued for the defense on both Saturday rounds and on behalf of the plaintiff on Sunday. Coach Alice Boyette observed after the event, "We were proud to represent NC at the 2016 National High School Mock Trial Championship in Boise, Idaho, in May. The CCH team members competed in each round to the best of their abilities. The attorneys argued objections with confidence, thought quickly on their feet and delivered well-reasoned openings and closings. The witnesses were believable and held up well under some tough crosses."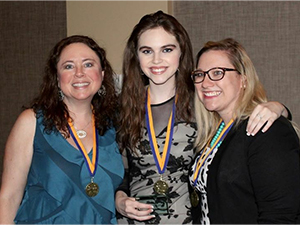 And the team's hard work and strong efforts paid off, as they won three of their four rounds (8 of 12 ballots), finishing 8th out of 46 teams! In addition, senior Sarah Boyette earned recognition as one of the top ten Outstanding Attorneys in the entire competition!
Reflecting on her experiences after returning home, Sarah Boyette summarized her mock trial "career" as follows: "In 2013, I competed at my first nationals as a freshman opening for the plaintiff, and our team placed 8th. In 2016, I competed at my fourth nationals as a senior closing for both the plaintiff and the defense and our team placed 8th, and I received a "top 10" attorney award. Even though the results sound similar, I am a much different person than I was as a freshman. Because of mock trial, I have improved confidence, public speaking skills, and reasoning abilities. My mock trial teammates have been my best friends. Mock trial has been the highlight of my high school years!"
Congratulations to Sarah and all the members of our 2016 state champions, the Central Carolina Homeschoolers! We are proud of your success and happy to have played a role in providing you with this outstanding educational opportunity. Our best wishes accompany all the seniors as you embark on new adventures – and we look forward to welcoming the others back in the fall!