In late July over 30 middle and high school students took a break from their summer vacation to take part in the North Carolina Mock Trial Program's seventh annual mock trial summer camp at the UNC campus in Chapel Hill, NC. They came from all over the country including South Carolina, Texas, Virginia, Washington DC, and throughout North Carolina. The camp offered both Advanced-level sessions, for those students with more than one year of high school mock trial experience, and Basic-level sessions, for those new to mock trial.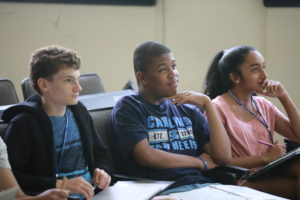 Engaging Lectures by Experienced Mock Trial Coaches
For three days the campers listened to engaging lectures led by practicing attorneys who have additionally long served as mock trial coaches and judges. As they gave their lectures, including seminars on Direct Examinations, Witnesses, Objections and Rules of Evidence, Cross Examinations, Opening Statements and Closing Arguments, the attorneys referenced the camp's case, State of Utopia v. Alex Palmer, a murder case involving a defendant with a somnambulism diagnosis.
Hands-On Practice Sessions with Assigned Mock Trial Mentors   
After each lecture area college students and recent high school graduates with extensive mock trial experience guided the campers as they prepared to argue for the prosecution or the defense in the camp's case. The mentors were assigned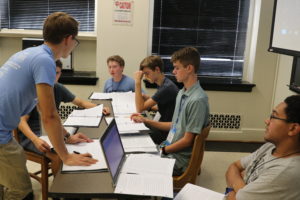 one team of between 4 to 6 campers and helped them develop their opening statements and closing arguments and prepare their direct and cross examinations. They also practiced how to tender exhibits into evidence, impeach a witness, make effective objections at trial and more. A camper described these practical sessions this way:  "the best part of camp was learning and practicing for trial".
Saturday Scrimmage and Closing Ceremony
The camp ended with a scrimmage on Saturday that let the mock trial students showcase their new skills. North Carolina Supreme Court Associate Justice Robin Hudson, Superior Court Judge Keith O. Gregory and Criminal Defense attorney S. Quon Bridges presided over the students'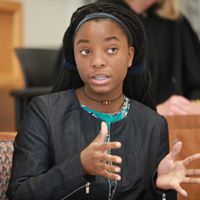 mock trials.  The NC Mock Trial Program is grateful to all attorneys and mentors, listed below, who made this summer camp possible!   At the closing ceremony immediately following the scrimmage, best attorney and best witness awards were handed out to each team.  NCMTP President Rebecca Britton also thanked Sue Johnson for her over 10 years of service to this mock trial program and recognized her incredible success growing the program and establishing this enriching camp.
We hope more students consider mock trial camp next summer — a fun way to develop leadership, critical thinking and presentation skills in a lively, supportive team environment.  As another student put it: mock trial camp is like "getting a year of mock trial [experience] in one week".
To view more camp photos, visit our Facebook page (http://www.facebook.com/ncmocktrial).
A HUGE "THANK YOU" TO OUR VOLUNTEER INSTRUCTORS AND STAFF!!
Instructors: Darren Allen, Matt Burke, Hailey Bunce, Susan H. Johnson, M.P.H., Chris Nichols, Nicole Winget
Presiding Judges:  S. Quon Bridges, Judge Keith O. Gregory, Justice Robin Hudson
Mentors and Volunteers: David Bainbridge, Emily Barefoot, Chris Cataldo, Sue Gray, Frankford Johnson, Jasmine Orsini, Emily Polson, Madux Price, and Allyn Sims