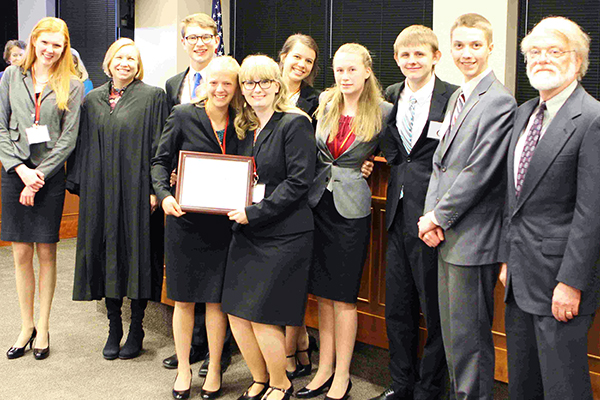 On Saturday, March 10, the Central Carolina Homeschoolers' team "Veritas" earned the right to represent North Carolina at Nationals in Reno, Nevada on May 10 – 12, defeating the strong East Chapel Hill High School team "White." Twelve teams took part in State Finals this year, presenting one of our strongest-ever competitive fields. Many ballots were determined by point spreads of 3 or fewer, illustrating the strength of teams across the state.
For the Central Carolina Homeschoolers, winning their fifth championship in six years is a remarkable accomplishment. Captain David Bainbridge agrees. "Every year, I feel the bar keeps getting raised higher. The quality of competition keeps getting better and better. We encountered many awesome student attorneys and witnesses this year, and feel very fortunate to have the honor of representing North Carolina in Reno."
The students could not have enjoyed such success without the investment of coaches and parents. Kudos to attorney advisor Darren Allen, teacher coaches Maria Bailey, Beth Polson, and Roger Sims, and the students and parents on this amazing achievement. We look forward to supporting our state champs at Nationals in May!
View photos from State Finals here.
Many thanks to our new State Finals sponsor Ward Black Law, The Visual Advantage, and Campbell Law School, and to all of our Presiding Judges, Scoring Jurors, and Site Volunteers!
Congratulations and best wishes to the Central Carolina Homeschoolers Veritas team members and coaches:
Head coach: Maria Bailey
Attorney advisor: Darren Allen
Assistant coaches: Beth Polson and Roger Simms
Students: Madysen Bailey, David Bainbridge, Julia Bainbridge, Gwen Ellis, Seth Finch, Daniel Kelly, Emily Polson, and Allyn Sims.
State Championship Results:
State Champion: Central Carolina Homeschoolers Veritas
Runner-up: East Chapel Hill High School White
Additional State Finals teams: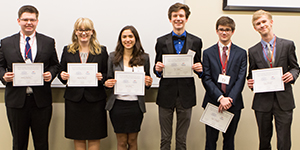 Village Christian Academy Purple
J. H. Rose High School Green
Chapel Hill High School Gold
Gaston Christian School Red
Central Carolina Homeschoolers Lux
Triton High School Gray
HARC Blue
Middle Creek High School
Blackstone
Gaston Christian School White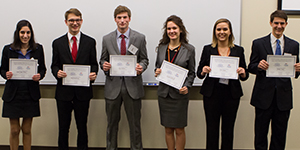 Individual Awards
Round 1 Best Witness
Madysen Bailey
Anthony Blandino
Lena Cohen
Shane McNiff
Jack O'Rourke
Eric Wylie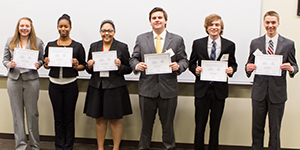 Round 1 Best Attorney
David Bainbridge
Celi Cooper
Jack Hilbert
Jacqueline Purtell
Dalia Segal-Miller
Kenan Sims
Round 2 Best Witness
Alec Caruana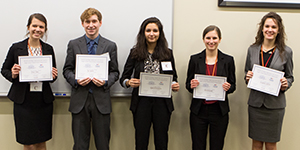 Will Crisp
Daniel Kelly
Graycen Murray
Tsedey Pretto
Gavielle Taylor
Round 2 Best Attorney
Kendall Barbour
Yasmin Frischemeier
Jacqueline Purtell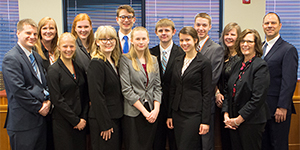 Emily Robinson
Allyn Sims
Joe Swick
Championship Round
Best Witness: Allyn Sims
Best Attorney: David Bainbridge