Early in the morning on Wednesday July 29, 60 excited high school students and teacher-coaches converged on Carmichael dorm in Chapel Hill. While many lived nearby, others had come from as far away as Ohio, New Jersey, Tennessee,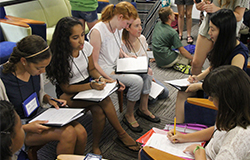 and South Carolina. What inspired them to devote four days of their summer to an intense academic activity? Mock trial, of course! These enthusiastic students and teachers were eager to learn about our legal system during our third annual CCCE Chapel Hill summer mock trial camp. While some students were looking to refine their skills in the Advanced sessions, many Basic level campers weren't entirely sure what mock trial even was – but they were about to find out!
Former judges, attorneys, and other legal professionals shared their knowledge in targeted sessions on trial preparation. Session topics included "Mock 101" (overview and case analysis), Direct Examination, Objections and Rules of Evidence, Witnesses, Cross Examination, Opening Statements and Closing Arguments, and Presentation and Demeanor. Instructors kept the students engaged by tailoring their presentations to the students' level and employing the Socratic method. "Jeopardy" games provided a fun way to test the students' knowledge of each day's material, with prizes for individual answers and for the top two teams.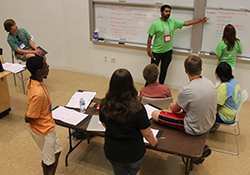 Teaching sessions were interspersed with hands-on breakout groups, in which the eight teams of students put their new knowledge into practice by preparing for an end-of-camp mock trial. Law school and college-aged "mockers" with experience at the highest levels of high school and collegiate competition mentored each team, guiding students in their preparations and giving them confidence in their new skills.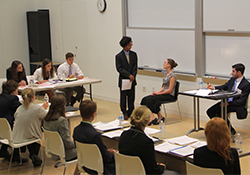 On Saturday, the students "showed their stuff" by arguing for either the prosecution or the defense in the case of State of Arcadia v. Kinsley Williams. While notes were allowed due to the compressed time frame, many students confidently proceeded from memory alone. Objection battles were adroitly argued, and witnesses gave convincing portrayals even under withering cross examinations. At the end of the day, the students and their proud families were thrilled by all they had accomplished!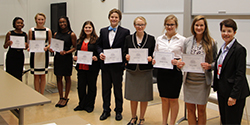 Preparing to leave Chapel Hill, the campers and teacher-coaches raved about the camp. As one participant proclaimed on the evaluation survey, "The camp was a fantastic learning experience. I feel like I have been able to grow as a mocker along with my teammates, and we will do better at competition because of this camp." A teacher-coach agreed: "I highly recommend the camp! The Resource Manual was exceptional, and the Presenters were incredible!" Our volunteer instructors were equally enthusiastic. N.C. Supreme Court Justice Robin Hudson, who presided in one of the trials, wrote afterwards, "Those students were amazing, especially as young as they are. I enjoy seeing how talented our young people are, and helping out is the fun part of my job. The pleasure was all mine!"
As a result of our summer camp, several new schools plan to join the mock trial program this fall – a wonderful benefit to students statewide who will thereby gain important skills and a deeper appreciation for our legal system.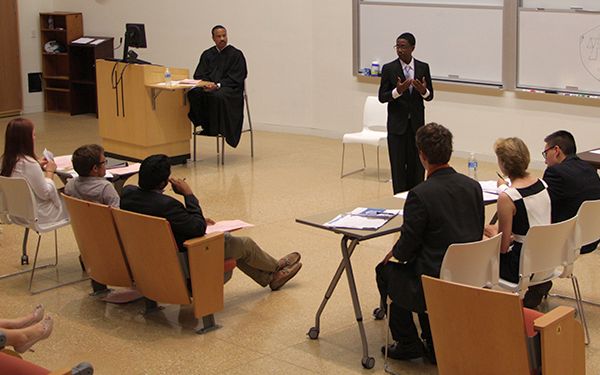 THANK YOU TO OUR VOLUNTEER INSTRUCTORS AND STAFF!!
Instructors: Darren Allen, S. Quon Bridges, Hailey Bunce, Philip Entzminger, Susan H. Johnson, Mark Kleinschmidt, and Justin Matarrese.
Presiding Judges: Justice Robin Hudson, S. Quon Bridges, Justin Matarrese, Michael D'Ippolito.
Mentors and Volunteers: Toby Benjamin, Michael Bojanski, Matt Burke, Rachel Cline, Shaza Gaballah, Madeline Gooding, Frankford Johnson, Andrew Kelly, Arvind Krishnamurthy, Logan Spaller, Elise Wilson, David Yasinovsky, and Sydney Zorowitz.