By Sue H. Johnson
CCCE Mock Trial Program Coordinator
When the 2015 Nationals case was released at midnight on April 1, our 2015 state champion team (and 2012 champs) Gaston Christian School excitedly began to ready themselves for the competition. The North Carolina-themed case was loosely based on the recovery of our stolen Bill of Rights (recovered in an FBI "sting" in 2003), and it provided both a fun and an educational experience for the competing students. Teams would be able to visit the State Capitol Building where the precipitating (fictional) event occurred, meet Revolutionary War reenactors, and even view the actual Bill of Rights at a special showing during the Friday night team scavenger hunt! The Gaston Christian team looked forward to all the excitement in store.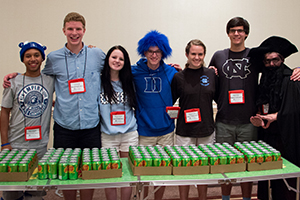 Yet our steering committee hoped they would not be alone in representing our great state – for as the 2015 host, NC could send a second team if state registrations resulted in an odd number of teams. Sadly, when the April 15 deadline arrived, 46 teams had registered, and it appeared that only our state champion could compete.
But as those in the legal profession know very well, it isn't over until it's over. And on April 23, the Alaskan team withdrew from the event, opening a slot for a second North Carolina team! When our second place team could not attend on such short notice, the Central Carolina Homeschoolers – third in 2015 and state champs in 2013 and 2014 –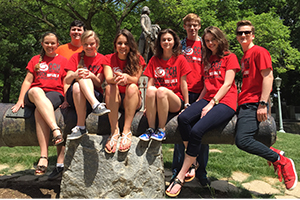 jumped at this unexpected opportunity. Having only half as much time to prepare as the other teams, they were up for the challenge.
Both teams argued with skill and passion in the four preliminary trials, and both faced strong competition in their quest. Gaston Christian faced teams from Kentucky, Indiana (a perennial nationals contender), California, and Maine, finishing with an overall record of 2 wins (taking 8 out of 12 ballots) and earning 16th place overall.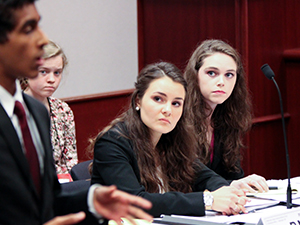 The Central Carolina Homeschoolers also faced tough teams, meeting schools from Louisiana, Washington state (the 2014 national champs), the eventual third-place winner from Massachusetts, and Arizona. In the end, they prevailed in three of their trials (taking 9 of 12 ballots) and earning 5th place!
We applaud both teams for their outstanding success and are very glad to see their effort and dedication pay off. But far more important than any trophy or medal is the lasting impact of mock trial participation on these students' lives.
The students and coaches of the two North Carolina teams couldn't agree more.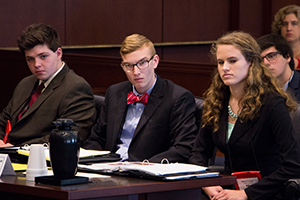 As Gaston Christian junior Ashley Layne remarked, "Nationals in Raleigh was absolutely a once in a lifetime opportunity. Not only did I get to compete at a level that was challenging, educational, and thrilling, but I got to do it all alongside the most incredible students from all over the country in the state I call my home. It doesn't get any better than that!"
GCS Parent Kelly Brown adds, "Being at Nationals again was just an amazing experience. Our team did such a phenomenal job and we are so proud of them. As a parent who has been a mock trial groupie for the last 7 years, this is a bittersweet time for us. Thank you to Sue Johnson for all her support and for organizing such a great event. Mock trial has grown our boys into outstanding men and these experiences will last a lifetime."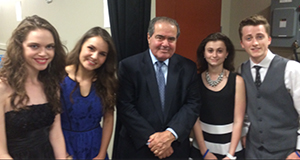 Central Carolina Homeschoolers student Sarah Boyette agrees. "Nationals this year was the best one I've ever been to. Everything from the pin trading to the closing gala was amazing. It was an honor to hear Justice Scalia speak and to have the opportunity to meet him and get a photo. After placing 3rd in NC, when I found out we were given the opportunity to compete at nationals because of a team dropping out, it seemed unreal – I called it a miracle; and to prepare the case with my closest friends in less than three weeks and then place fifth in the nation was one of the most rewarding experiences of my life."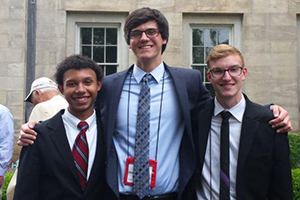 CCH student Aaron Presnell declares, "The Raleigh National Competition was an amazing experience. I had loads of fun at the pin exchange, watching circus performers, and eating delicious food while hanging out with fellow competitors. The closing ceremony was by far my favorite part. Great finger foods, loud music, and funny photos being displayed on huge screens to show all the fun we had on the previous days. This year's nationals was definitely my favorite National Competition that I've been to. The coordinators for the event did a phenomenal job to give us "mockers" a wonderful experience."
As CCH attorney coach Darren Allen concludes, "One of the most exhilarating aspects of nationals is the chance to compete against the best teams in the world. We were fortunate to draw two former national championship teams, including last year's national champions Seattle Prep. Even more amazingly, our kids managed to win both of those rounds. We would like to thank Gordon Widenhouse, Rebecca Britton, Sue Johnson, Rich Manger, and the hundreds of volunteer judges, scorers, and site volunteers that made such an amazing experience possible."
Congratulations to both teams, and many thanks to all of the volunteers who made it an incredible event. Well done, everyone!!