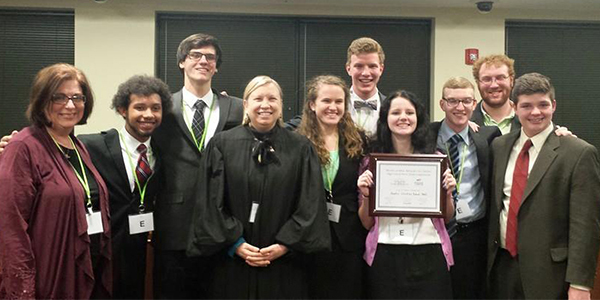 On Saturday, March 7, Gaston Christian School earned the right to represent North Carolina at Nationals, defeating an impressive first-year team from East Chapel Hill High School on split ballots (4-1). A perennial competitor at State Finals, Gaston Christian School in Gastonia, NC also won the state title in 2012, going on to compete at Nationals in Albuquerque, NM. Two freshmen on that team, Jamison Brown and Grady Pearson, helped lead this year's team to victory. And now they'll be vying for the championship as the hometown favorites when Nationals takes place in Raleigh, NC on May 14 – 16, 2015.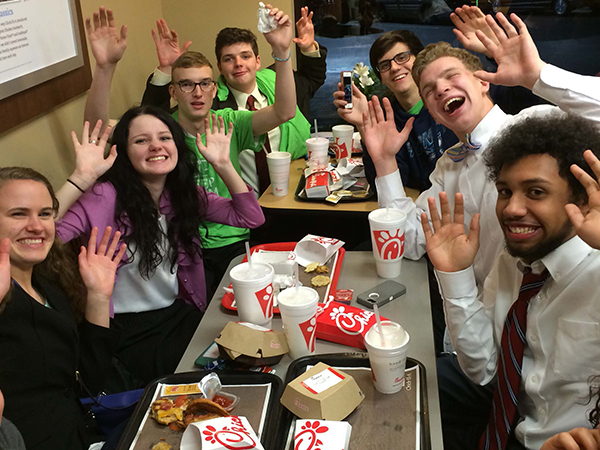 Seven-year head coach Jane Painter attributes the team's success to three factors: hard work; close relationships, and chocolate! For Gaston Christian, mock trial was a year-round sport this season. Seeking new challenges, the team competed at Empire New York: The World Championship in October, which required that the team prepare during the summer. Utilizing a complicated college case, Empire New York brings together 40 teams from 6 nations and numerous states for an enriching social and competitive experience. As Painter explains, "[Empire] was extremely helpful in helping us reach the next level and we also had a grand time!" Returning home, they devoted equal effort to the NC case, scrimmaging their second team in front of Judge Mike Lands at the Gaston County Courthouse on many Saturdays.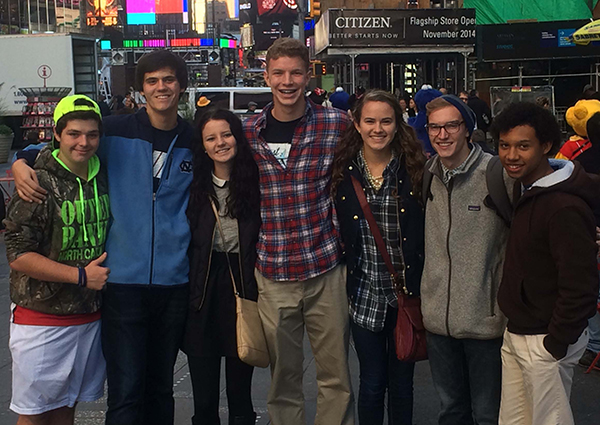 Such commitment requires teams to spend many hours together, leading to deep friendships. Team members become like family – and in the case of GCS, many team members actually ARE family. Painter elaborates: "Just as it relates to this year's team we have had the following sibling connections: Jordan (alumni coach) and Jamison Brown; Megan (alumni coach) and Grady Pearson; Sam (alumni coach), Kathryn (alumni coach) and Joe Painter; Robert, Connor and Thomas Williford." As a result, the "team is very close, with a strong spiritual bond between the members."
While they work hard, the GCS team members also know how to have fun! According to Painter, the team "runs on chocolate. When we practice in the courthouse, I start by liberally sprinkling …assorted candy on both counsel tables. We have consumed many pounds of chocolate this season alone and we firmly believe it is fundamental to our success." Sounds like a theory worth testing!
We look forward to supporting our state champs at Nationals in May! Congratulations and best wishes to all Gaston Christian School team members and coaches:
Head coach: Jane Painter, Esq.
Principal: Nancy McDaniel
Faculty advisor: Trey McKeown
Alumni and assistant coaches: Sam Painter, Jordan Brown, Megan Pearson, Kathryn Painter, Will Neinast
Students: Jamison Brown, Ashley Layne, Joe Painter, Grady Pearson, Madux Price, Rachel Putnam, Thomas Williford
State Championship Results:
State Champion: Gaston Christian School Red
Runner-up: East Chapel Hill High School Black
Additional participating Regional Champions:
Blackstone
Central Carolina Homeschoolers
JH Rose High School Green
Raleigh Charter School Green
Triton High School
Westchester Country Day School
Individual Awards
Round 1 Best Witness
Jonathan Bethel
Max Dickson
Tyla Gomez
Alex Kyu
Round 1 Best Attorney
Jamison Brown
Rachel Cline
Blake Davis
Daniel Stratton
Round 2 Best Witness
Sarah Bailey
Jopsy Bayog
Ana Ortiz
Joe Painter
Round 2 Best Attorney
Tyla Gomez
Lena Hu
Ashley Layne
Emily Neville
Championship Round
Best Witness: Lena Hu
Best Attorney: Ashley Layne