Early in the morning on Wednesday June 25, 40 excited high school students and teacher-coaches converged on Winston dorm in Chapel Hill. While many lived nearby, others had driven from as far away as Wilmington and Mooresville. What inspired them to devote four days of their summer to an intense academic activity? Mock trial, of course! These enthusiastic students and teachers were eager to learn about our legal system during our second annual CCCE Chapel Hill summer mock trial camp. While some students were looking to refine their skills in the Advanced sessions, many Basic level campers weren't entirely sure what mock trial even was – but they were about to find out!
Judges, attorneys, and other legal professionals shared their knowledge in targeted sessions on trial preparation (Case Analysis, Direct Examination, Witnesses, etc.). These sessions were interspersed with hands-on breakout groups, in which the teams of students put their new knowledge into practice by preparing for an end-of-camp mock trial. College "mockers" with experience at the highest levels of high school and collegiate competition mentored each team, guiding students in their preparations and giving them confidence in their new skills.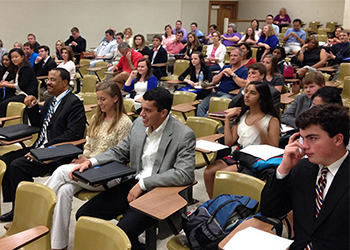 On Saturday, six teams of students "showed their stuff" by arguing for either the plaintiff or the defense. While notes were allowed due to the compressed time frame, many students confidently proceeded from memory alone. Objection battles were adroitly argued, and witnesses gave convincing portrayals even under withering cross examinations. At the end of the day, the students and their proud families were thrilled by all they had accomplished!
Preparing to leave Chapel Hill, the campers and teacher-coaches raved about the camp. As one participant proclaimed on the evaluation survey, "My overall camp experience was magnificent, and the entire staff was very friendly and welcoming. I would definitely recommend this camp to my friends; it is extremely fun, educational, and enriching. I enjoyed everything about it and can't wait to come back next year!" Our volunteer instructors were equally enthusiastic. Judge Carl Fox, who presided in one of the trials, wrote afterwards, "It was my pleasure to judge during the Mock Trial Camp. The students were very impressive performers and great listeners. They do such a great job! Thank you very much for the opportunity."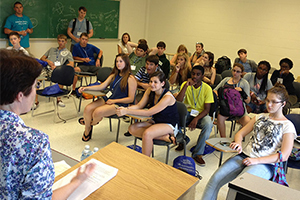 On Wednesday, July 9, an equally enthusiastic group of students and teachers converged on UNC-Asheville for our first-ever Asheville mock trial camp. The opportunity to learn about mock trial in such a picturesque setting attracted students, not only from North Carolina, but from South Carolina and Tennessee as well. The camp was open to both day and overnight campers at both Basic and Advanced levels. Following the same schedule as the Chapel Hill camp, sessions were led by judges, law clerks, trial attorneys, and public defenders.
College-aged mentors came from as far away as UNC-Chapel Hill and Furman University to share their love of mock trial with the students. Many campers stayed overnight at the Asheville location, giving the students extra opportunities to work together in the evening on their case presentations. On Saturday, proud family members were amazed as they watched four teams of students confidently display their new skills in their concluding trials. Afterward, students expressed their appreciation for the opportunity to take part in such an intensive camp, with comments such as: "The camp was super interesting and fun. It made a big impact on me! I can't wait to come again next year."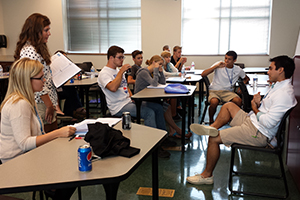 Our final camp session was held from July 30 – Aug. 2 at Methodist University in Fayetteville. Nine students and 2 teachers attended the camp, including one student from Indiana who was visiting family in the area! We had great support from the university and the local community in making this camp available to our students. Our college-aged mentors were all alumni of the mock trial programs offered by local high schools, and they were eager to "pay it forward" by investing in the next group of up-and-coming leaders. Proud family members were impressed by the campers' trial presentations on Saturday, with several student attorneys even quoting specific rule numbers during objection battles! At the conclusion of the camp, the students expressed their appreciation for the opportunity and their excitement about the upcoming season.
As a result of our three summer camps, several new schools plan to join the mock trial program this fall – a wonderful benefit to students statewide who will thereby gain important skills and a deeper appreciation for our legal system.
A HUGE "THANK YOU" TO OUR VOLUNTEER INSTRUCTORS AND STAFF!!
Chapel Hill
Instructors: S. Quon Bridges, Kevin Harrison, Sue Johnson, Mark Kleinschmidt, Chris Nichols, Brooke Schmidly, and Linda Wendling.
Presiding Judges: Justice Robert Edmunds, Jr., Judge Carl Fox, and Judge Paul Ridgeway.
Mentors and Volunteers: Matt Burke, Hailey Bunce, Michael D'Ippolito, Matthew Gambale, Jordan Godwin, Brooklyn Hildebrandt, Dexter Hobbs, Frankford Johnson, Melissa Muse, Adam Sullivan, and Elise Wilson.
Asheville
Instructors: Judge Beverly Beal, Bill Cannon, Tom Cochran, Judge Lucy Inman, Sue Johnson, Ron Justice, Mark Melrose, and Fredilyn Sison.
Presiding Judges: Judge Beverly Beal and Judge Lucy Inman.
Mentors and Volunteers: Jordan Brown, Matt Burke, Jason Iglesias, Frankford Johnson, Kaitlyn Pugh.
Fayetteville
Instructors: Rebecca Britton, Philip Entzminger, Kevin Harrison, Sue Johnson, Cassi Radloff, and Judge Clark Reaves.
Presiding Judge: Kate Hudson.
Mentors and Volunteers: Madeline Gooding, Caroline Pope, Samuel Savage, and Wendy Vonnegut.