On Friday, March 1, 2013, the eight Regional champions from across North Carolina converged upon Campbell Law School, four-time host of the state finals competition. Before engaging in their own legal battles, the students toured the North Carolina Supreme Court, where they learned about appellate advocacy and the making of legal precedent in N.C. Justices Robert H. Edmunds, Jr., and Paul M. Newby inspired the students with stories from early N.C. legal history as well as recounting of recent events. Returning to Campbell Law, the students were greeted by Campbell Interim Dean B. Keith Faulkner before the presentation of the M. Gordon Widenhouse, Jr. Award for Visionary Leadership. After tours of the law school by Campbell Law students who devoted part of their spring break to serving as gracious hosts, the participants proceeded to the Friday reception for food and fellowship. Representative Rick Glazier exhorted the students to make a difference in their communities, recognizing that they have a moral obligation to leave the world a better place than they found it.
On Saturday, March 2, the students displayed impressive legal knowledge and convincing witness portrayals as they advocated once on each side of the civil case Mia Donovan v. Shannon Dempsey, Jordan Reddick, and Rubicon Soccer Club. All eight regional champions represented their schools well; nearly every round was decided by split ballots, and no team won every ballot in preliminary competition. At the end of the two preliminary rounds, eight students earned "Best Attorney" and "Best Witness" awards; then all waited with hearts pounding for the announcement of the two finalists: Central Carolina Homeschoolers and Gaston Christian School "Red" (the 2012 State Champions).
As the Honorable Justice Robert H. Edmunds, Jr. presided over the championship round, the students argued the case with passion and professionalism before the prestigious jury panel of Janet Ward Black, S. Quon Bridges, Guy W. Crabtree, Burton Craige, and Spencer Parris. In the end, the outstanding team the Central Carolina Homeschoolers was declared State Champion on split ballots, earning the right to represent North Carolina at the National High School Mock Trial tournament in Indianapolis, IN in May!
Congratulations to the Central Carolina Homeschoolers and all eight regional champions for their accomplishments this year! To access photos of the event, go to 2013 State Finals Photos
Many thanks to the State Finals sponsor, Rudolf Widenhouse & Fialko, and to all of our Presiding Judges, Scoring Jurors, and Site Volunteers!
Over forty legal professionals and a dozen other volunteers served at state finals, including (in addition to those mentioned above) North Carolina Supreme Court Justice Barbara A. Jackson, N.C. Court of Appeals Judge Richard A. Elmore, N.C. Superior Court Judges Lucy N. Inman and Carl R. Fox, and N.C. General Court of Justice S. Quon Bridges. Thank you!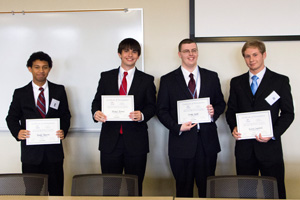 State Championship Results:
State Champion: Central Carolina Homeschoolers
Runner-up: Gaston Christian Red
Additional participating Regional Champions:
Village Christian Academy Purple
TC Roberson
Isaac Bear Early College
JH Rose Blue
Raleigh Charter Lapis
Hendersonville Cats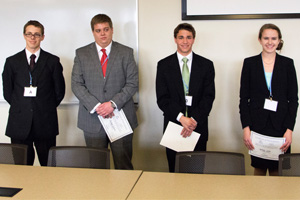 Individual Awards
Round 1 Best Witness
Austin Crawford
Grady Pearson
Drake Smith
Michael Thomas
Round 1 Best Attorney
Jordan Godwin
Ashley Lane
Brandon Morrissey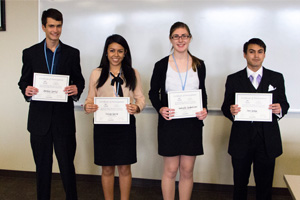 Logan Spaller
Round 2 Best Witness
Julissa Garcia
Matthew Gentry
Gabrielle Juskeviciute
Sam Savage
Round 2 Best Attorney
Jordan Godwin
Anna Huck
Andrew Kelly
Kathryn Painter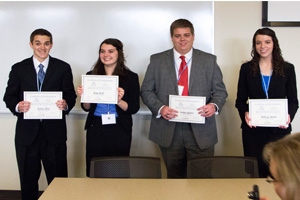 Championship Round
Best Witness: Rachel Cline
Best Attorney: Andrew Kelly