On Friday, March 2, 2012, the eight Regional champions from across North Carolina converged upon Campbell Law School, three-time host of the state finals competition. Taking advantage of the school's strategic location, teams visited the North Carolina Supreme Court building, where they had the honor of meeting Justices Paul M. Newby and Robert H. Edmonds, Jr. Returning to Campbell Law, students enjoyed the opportunity to tour the law school and socialize at the afternoon reception before Zachary G. Aldridge of J. H. Rose High School was awarded the "M. Gordon Widenhouse Jr. Award for Inspirational Team Leadership." Soon, leadership skills would be put to the test as the morning competition rounds began.
On Saturday, March 3, impressive legal knowledge and convincing witness portrayals were on display as each team competed once as prosecution and once as defense in the cyberstalking case State of Arcadia v. Kinsley Williams. The excellence of each team was apparent, as many ballots were decided by only one point difference! At the end of the preliminary rounds, eight students earned Best Attorney and Best Witness awards; then, as all waited with breathless anticipation, the two finalists were announced: Jordan High School from Durham, and Gaston Christian School from Gastonia. As Justice Edmonds presided, both teams argued their cases with passion and professionalism before the prestigious jury panel of Burton Craige, Janet Ward Black, the Hon. Mary Ann Tally, Rep. Richard Glazier, and E. Spencer Parris. In the end, the outstanding team from Gaston Christian School was declared State Champion, earning the right to represent North Carolina at the National High School Mock Trial tournament in Albuquerque, NM in May!
Congratulations to all eight Regional Champions for their accomplishments this season!
Many thanks to the State Finals sponsor, Rudolf Widenhouse & Fialko, and to all of our Presiding Judges, Scoring Jurors, and Site Volunteers!
Over forty legal professionals and a dozen other individuals devoted their Saturday to serving our students at state finals, including (in addition to those mentioned above) North Carolina Supreme Court Justice Barbara A. Jackson, N.C. Court of Appeals Judge Richard A. Elmore, N.C. Superior Court Judges Lucy N. Inman and Carl R. Fox, and N.C. General Court of Justice S. Quon Bridges. Their willingness to invest in these students is greatly appreciated!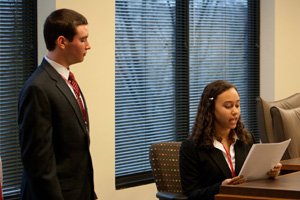 State Championship Results:
State Champion: Gaston Christian
Runner-up: Jordan High School
Third: Central Carolina Homeschoolers
Fourth: Raleigh Charter Lapis
Fifth: J.H. Rose Blue
Sixth: Mooresville High School
Seventh: J.H. Rose White
Eighth: Gray Stone Day
Individual Awards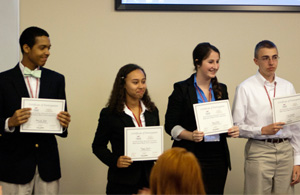 Round 1 Best Witness
Mary Felder
Cale Mchaffey
Megan Pearson
Derrick Knox
Round 1 Best Attorney
Sahithi Adari
Ryan Rocklein
Kathryn Painter
Rachel Cline
Round 2 Best Witness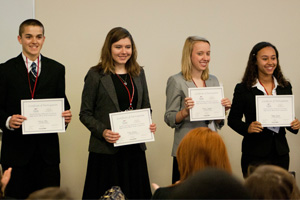 Christine Allison
Rachel Cline
Katie Needell
Phineas Nyang'Oro
Round 2 Best Attorney
Katie Boehm
Andrew Kelly
Megan Pearson
Abigail Tennyson
Championship Round
Best Witness: Megan Pearson
Best Attorney: Melissa Muse