You are here
CCCE Summer Camps
We are excited to offer students and teachers the opportunity to gain new insights and skills in a fun, focused 4-day summer camp. Teams and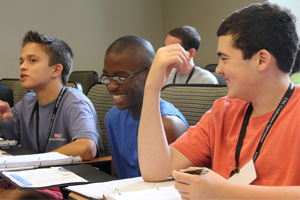 individuals can select from three locations:
CHAPEL HILL: June 25-28 on the UNC-Chapel Hill campus (day and overnight campers)
ASHEVILLE: July 9-12 on the UNC-Asheville campus (day and overnight campers)
FAYETTEVILLE: July 30-Aug. 2 on the Methodist University campus (day campers only)
STRUCTURE OF THE CAMPS
In these four-day camps, students and teachers will learn about all aspects of a mock trial, from opening statements to closing arguments and everything in between. Informative and interactive presentations will cover direct and cross examination, objections and Rules of Evidence, and the roles of witnesses and attorneys. Through small group break-out sessions, students will practice their new skills as they prepare to argue one side of a fictional civil case in an end-of camp scrimmage. Family and friends are welcome to attend these trial presentations!
CAMP INSTRUCTORS
Our teaching sessions will be led by legal professionals, including judges, professors at colleges and law schools, and attorneys who have published and led seminars nationwide. Information on the specific instructors for each camp are below. In addition, experienced college students will mentor each team as they work on their case presentations.
Asheville Camp Instructors
Chapel Hill Camp Instructors
Fayetteville Camp Instructors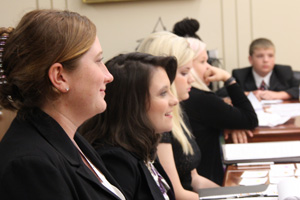 WHO SHOULD ATTEND?
Any student or teacher who wants to learn about mock trial in a fun, hands-on environment. Existing teams and individual students and teachers are all welcome. We will keep existing teams together upon request and will assign individuals to teams for the trials.
BASIC AND ADVANCED TRAINING
At all locations, we are offering both Basic and Advanced levels of training (numbers permitting). Students with prior mock trial experience may register for the advanced sessions to learn more in-depth techniques, while students new to mock trial will receive important foundational material to allow them to "hit the ground running" in the upcoming season. Each session has been adjusted to meet the needs and interests of the group, and end-of-camp scrimmages will be set up between teams of the same level. The cost is the same for either level.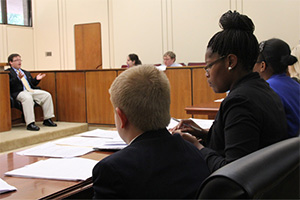 CAMP SCHEDULE
Camp instructional sessions and small group break-out sessions will take place from 9:00 am – 5:30 pm on Wednesday – Friday (subject to change as needed). Sessions will end earlier on Saturday after the trial presentations and closing awards ceremony. Final schedules will be emailed to registered participants.
Asheville Camp Schedule
Chapel Hill Camp Schedule
Fayetteville Camp Schedule
DAY AND OVERNIGHT OPTIONS
In Chapel Hill and Asheville, campers have the option to attend as day campers or to stay overnight in the dorms at UNC-Chapel Hill and UNC-Asheville.
Overnight student campers must be accompanied by a registered adult (1 adult/8 students) who must supervise the students after instruction ends at 5:30 pm. The supervising adult can register either as a participant, attending camp training sessions and receiving all training materials, or as a chaperon-only, receiving room accommodations, breakfast, and lunch, but no training materials or camp sessions.
The Fayetteville camp will be held at Methodist University and will only include a day camper option, although both Basic and Advanced tracks will be offered.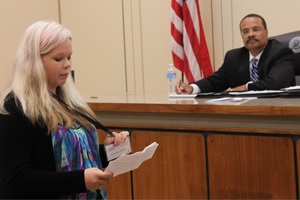 WHAT IS PROVIDED?
Prior to camp, all registered participants (students and adults) will receive a link to download the camp case and rules.
At the camp, participants will receive a printed resource manual, 2014 N.C. State Finals Championship round DVD, sports bag, and lanyard/name badge. (Adults registered as chaperons-only will receive a lanyard/name badge only).
Lunch will be provided for everyone. Overnight campers will also receive breakfast; however, dinner is on your own. Linens are provided (sheets, towel/washcloth, blanket). Student overnight campers will be placed in double-occupancy rooms; adults will have single rooms.
EARLY BIRD DISCOUNT
Applications received by Friday April 18 will receive an "Early Bird discount." Groups of five or more will also receive a discount IF the applications are submitted together.
HOW DO I REGISTER?
Download the registration form and send the completed form, along with a $50 non-refundable deposit, to:
Summer Camp Registration
Attn: Program Coordinator Sue Johnson
PO Box 9626
Chapel Hill, NC 27515
Limited need-based awards are available.
For more information, contact Sue Johnson at SueHeathJohnson@gmail.com or 919-360-0848. We look forward to seeing you at camp!!