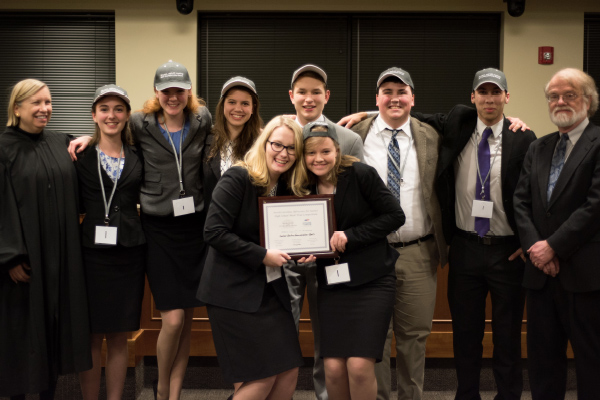 State Finals information
Congratulations to Central Carolina Homeschoolers Lewis, the 2017 State Champion!
Runner Up: JH Rose High School Green
Other teams competing at State Finals:
HARC Blue
Chapel Hill High School Black
Village Christian Academy Purple
East Chapel Hill High School Black
Uwharrie Charter Academy Birds of Prey
Wake Classical
TC Roberson
Gaston Christian School White
Photos from State Finals are available here.
Contact:
State Finals Coordinator: Gordon Widenhouse, mgwidenhouse@yahoo.com
Site Coordinator: Rebecca Britton, Rebecca@brittonlawfirm.com
State Coordinator: Sue Johnson, SueHeathJohnson@gmail.com
THANK YOU to our 2016-17 State Finals sponsor, RUDOLF WIDENHOUSE, the NORTH CAROLINA STATE BAR, and CAMPBELL LAW SCHOOL, our State Finals host since 2010!! We appreciate their ongoing generous support! For more information, visit Rudolf Widenhouse and Campbell Law School
The 2017 state champion earned the right to compete at the National High School Mock Trial Championship in Hartford, CT on May 11-13, where they brought home the National Championship!! For more information on the 2017 competition, visit 2017 NHSMT Championship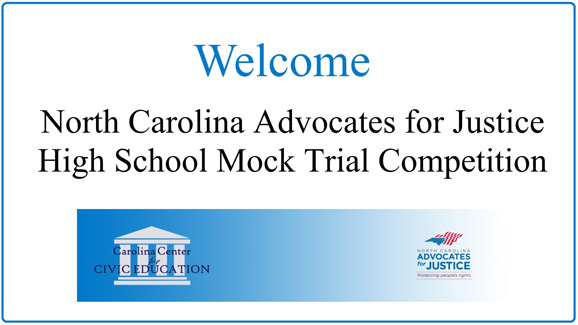 State Finals location information
Campbell Law School
225 Hillsborough Street, Raleigh, NC 27603
919-865-4650
Get directions via Google maps
Tournament Hotel information
Rooms have been reserved at the Holiday Inn Raleigh Downtown Capital Hotel, 320 Hillsborough Street, Raleigh, NC 27603, 919-832-0501. Visit the hotel website at Holiday Inn. The hotel is located directly across the street from Campbell Law School.
Rooms are available in 2018 at a special rate of $104 per night + $7 parking fee only until Feb. 23. Call the hotel directly at the number above to reserve your room in the "CCCE Mock Trial" group block OR reserve your room online at Holiday Inn Reservations.
Hotel directions via Google maps
State Finals schedule
NOTE: Friday events are only for teams which are competing. Others are welcome and encouraged to come on Saturday to view the competition rounds.
Friday, March 10, 2017
11:30 am – 12:30 pm

Registration. One coach and one team captain should be present for registration at the Campbell University School of Law

12:30 – 1:50 pm

Teams are on their own for lunch

1:50 pm

Meet at the front entrance of the NC Supreme Court building at 1:50 sharp for our tour of the North Carolina Supreme Court. Following the tour, teams will walk to the Campbell University School of Law.

4:30 – 6:30 pm

Reception and announcement of M. Gordon Widenhouse, Jr. Award winner. Campbell School of Law. Teams are on their own for dinner.
Saturday, March 11, 2017
8:30 – 9:30 am

Bagels, muffins, breakfast beverages available in the Law School foyer prior to welcome address

8:30 – 9:15 am

Judge and Juror Orientation, Dean's Conference Room' 4th floor

9:30 am

Welcome Address, Law School Auditorium, Posting of Round I match ups and courtroom assignments

10:00 – 11:45 am

Round I

11:45 am – 12:45 pm

Lunch provided on site for teams and advisors' Law School Foyer

11:45 am – 12:45 pm

Judge and Juror Orientation, Dean's Conference Room' 4th floor

12:30 pm

Posting of Round II match ups and courtroom assignments

1:00 – 2:45 pm

Round II

3:00 – 3:30 pm

Reception – Law School Foyer

3:30 – 4:00 pm

Awards Ceremony: Presentation of Best Attorney and Best Witness awards, Announcement of Final Round teams' Law School Auditorium

4:15 pm – 6:00 pm

Final Round

6:30 pm

Award Presentations