High Point Regional
Congratulations to Uwharrie Charter Academy Birds of Prey, the 2017 High Point Regional Champion!
Runner Up: Page High School Red
Other schools competing in High Point:
Gaston Christian School Red
Uwharrie Charter Academy Talon-ted Eagles
Charlotte Islamic Academy Strength
Page High School White
Charlotte Islamic Academy Endurance
Millennium Charter Academy Gold
Calvary Day School
Millennium Charter Academy Green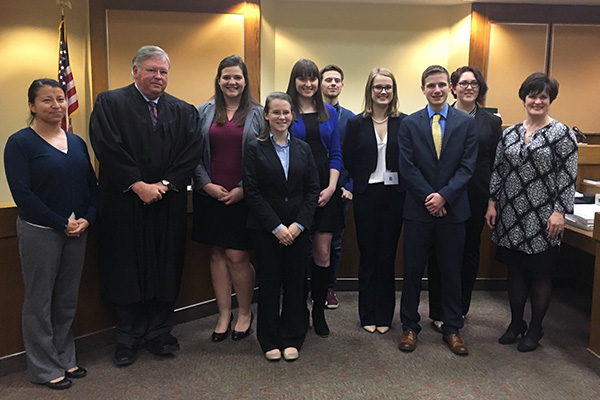 All the materials for the High Point Regional are available here. If you have any questions or suggestions regarding this webpage, please contact State Coordinator Sue Johnson at SueHeathJohnson@gmail.com
Many thanks to our 2017-2018 High Point Regional Sponsor, Manger Law Firm. Long-time High Point Regional Coordinator Rich Manger has stepped up to sponsor the regional again this year. We are grateful to Rich for his outstanding investment in these young leaders!
Many thanks to our Regional and Site Coordinators, whose dedication and service make these competitions possible! For specific questions regarding the High Point Regional, please contact Regional Coordinator Rich Manger (336-882-2000 or ram@mangerlaw.com), or Site Coordinator Rose Pratt (rosepratt0703@gmail.com).
To volunteer, please fill out our online volunteer registration form, or scan/email or fax the pdf form to the state office: Regional volunteer form.
If you have questions about the overall competition, please contact CCCE State Coordinator Sue Johnson at SueHeathJohnson@gmail.com or CCCE VP Rebecca Britton at Rebecca@BrittonLawFirm.com.
High Point Regional location information
High Point County Courthouse
505 East Green Drive
High Point NC 27260
336-801-5200
Directions from the North: Take 85 South. Follow 85 Business. Take the Brentwood Exit. At end of ramp, make a right. At the second light, take a left onto Green Street. At the second stoplight turn right onto Park Court. The parking deck is on the left down the hill.
Directions from the South: Take 85 North. Take exit 311 to get onto Main Street. Turn right onto Centennial Street. Turn right onto Commerce Street.
Get directions via Google maps
Area Restaurants:
There are several restaurants on Main Street and other roads nearby. See the attached pdf for more information. To reach Main Street from the courthouse, follow these directions: Take a right out of the parking lot onto Centennial. Take a left onto Kivett Street. Turn right at the third light (Main Street.)
Regional competition schedule
8:45 – 9:30 am

​Team Registration

9:00 – 9:45 am​​

Judge and Juror Orientation

9:45 am​

​Welcome Address

10:00 – 11:40 am

Round 1

12:00 – 1:40 pm

​Special Lunch Round (only if odd number of teams competing)

11:45 am – 1:30 pm​

Lunch on your own

1:00 – 1:45 pm​

Judge and Juror Orientation

1:30 – 1:45 pm​​

Teams Return from Lunch

1:45 pm​​

Posting of Round II matches and courtroom assignments

2:00 – 3:40 pm

​Round II

4:15 pm

Announcement of Awards for Best Witness/Best Attorney. ​​​Announcement of Finalists

4:45 – 6:30 pm

​Final Round

6:45 pm​​

Awards Presentation