Greenville Regional

Congratulations to J.H. Rose High School Green, the 2017 Greenville Regional Champion!
Runner Up: North Carolina School of Science and Math Mermaid
Other teams competing in Greenville:
North Carolina School of Science and Math Phoenix
J.H. Rose High School Blue
Epiphany School
Green Hope High School 1
East Carteret High School
Green Hope High School 2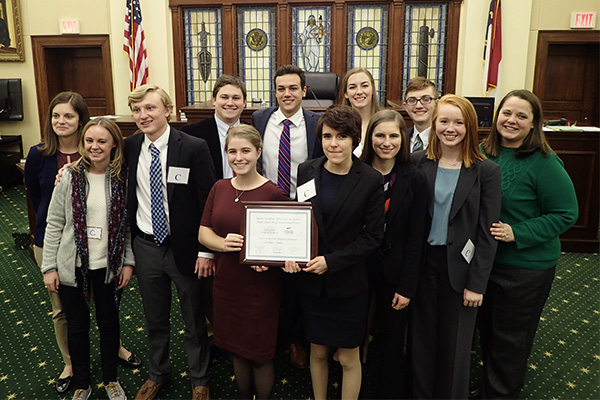 All the materials for the Greenville Regional are available here. If you have any questions or suggestions regarding this webpage, please contact State Coordinator Sue Johnson at SueHeathJohnson@gmail.com
Many thanks to our Regional and Site Coordinators, whose dedication and service make these competitions possible! For specific questions regarding the Greenville Regional, please contact Regional Coordinator Phil Entzminger (phillip.c.entzminger@nccourts.org) or Site Coordinator Jeffrey Cannon (252-493-1360 or jeffrey.m.cannon@gmail.com).
To volunteer, please fill out our online volunteer registration form, or scan/email or fax the pdf form to the state office: Regional volunteer form.
THANK YOU to our 2017-18 Regional sponsor, HARDEE & HARDEE, LLP, for their generous support! We could not hold this regional competition without their help. To learn more about the firm, visit their website at http://www.hardeeandhardee.com/
Greenville Regional location information
Pitt County Courthouse
100 W 3rd St Greenville, NC 27858
(252) 695-7100
Directions from the South
Follow the 17S Bypass. Continue onto US-13S/US-17S. Take exit 496 for US-13S/N Carolina 11 toward Bethel/Greenville/Oak City. Turn left at NC-11S/US-13S. Turn left at Greenfield Blvd/Rte 33E. Continue onto N Green St. Continue onto S Pitt St. Turn left at W 3rd St.
Directions from the East
64W turn left onto NC 171S/Andrews St. Turn left at US-17S. Take the ramp to US-264W/W 5th St. turn right at US-264 W/W 5th St. Turn left at NC-33E/Alt US-264W/Greenville Blvd NE. Turn right at E 10th St. Slight right at E 5th St. Turn right at S Evans St.
Get directions via Google maps
Restaurants
Chico's Mexican Restaurant-521 Cotanche St, Greenville, NC (252) 757-1666
Buffalo Wild Wings-114 E 5th St, Greenville, NC (252) 758-9191
Regional competition schedule
8:45 – 9:30 am

​Team Registration

9:00 – 9:45 am​​

Judge and Juror Orientation

9:45 am​

​Welcome Address

10:00 – 11:40 am

Round 1

12:00 – 1:40 pm

​Special Lunch Round (only if odd number of teams competing)

11:45 am – 1:30 pm​

Lunch on your own

1:00 – 1:45 pm​

Judge and Juror Orientation

1:30 – 1:45 pm​​

Teams Return from Lunch

1:45 pm​​

Posting of Round II matches and courtroom assignments

2:00 – 3:40 pm

​Round II

4:15 pm

Announcement of Awards for Best Witness/Best Attorney. ​​​Announcement of Finalists

4:45 – 6:30 pm

​Final Round

6:45 pm​​

Awards Presentation